Since December, 2005 the line of the "Heidekrautbahn" (=Heather train) (RB27) plies between Berlin-Karow and Groß Schönebeck / Schmachtenhagen in the Barnim, the Northern District of Brandenburg area. The company Niederbarnimer Eisenbahn (NEB) organizes the traffic of the blue-white trains with yellow doors of several lines in Eastern Brandenburg. For people from Pankow searching for short holiday the "Heidekrautbahn" is own of the most popular lines to reach the green hinterland of the town.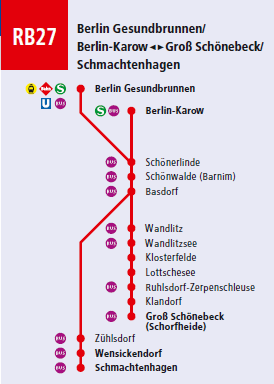 The "Heidekrautbahn" reaches many beautiful travel destinations
There are many beautiful destinations, holiday offers and possibilities to relaxe along the way of the "Heidekrautbahn". The most beautifull destinations for the autumn season will be presented at VisitPankow by and by.
Rail Network and Train Offers
The route Berlin-Karow – Groß Schönebeck is 37,2 km long.The turn-off from Basdorf – Schachtenhagen has a lenght of 9 kilometers. One gets from Berlin-Karow to Groß Schönebeck in a time of about 40 minutes. The three parts railcars of type Talent 1 had been built by Bobardier and circulate with quit diesel motors.
One has the choice to start from the train station Gesundbrunnen or from the city train platform Berlin-Karow. Here the RB 27 stops alternating with the city train in direction of Buch and Bernau.
From Berlin-Karow on reach quickly Groß Schönebeck, passing Schönerlinde, Schönwalde and Basdorf, Wandlitz and Lake Wandlitz.
The VBB tickets for the price area Berlin-ABC are valuable until Klosterfelde. The whole day ticket is worth to buy already from 3 transport in the Berlin-ABC area. A small group ticket for 5 persons or a Berlin-Brandenburg-Ticket or "Schönes-Wochenende-Ticket" (=nice weekend ticket) has best price for family excursions. The price informations are available at the website of the traffic company VBB and at the NEB.