On Sunday, the 21. May 2017 is the International Day of Museums. At that occation the museum festivity and the "Garden Day" are celebrated in Wandlitz.
The international Day of Museum is committed in whole Germany under the slogan "Spurensuche. Mut zur Verantwortung" (Search of traces. Courage to take Responsibility). The day should sharpen the responsibility of the museums als the conservator and transmitter of our cultural and natural heritage.
The BARNIM PANORAMA is agricultural museum and natural garden center at the same time and sets its own regional accents.
A traditional fashion show, historical and new tractors and actions around the exhibition with show garden and discovery trail give occation to experience and to understand nature, agriculture and technics.
A particular honor experience the four districts of Wandlitz: Wandlitz, Klosterfelde, Schönerlinde und Stolzenhagen. They celebrate their 775th jubilee, the stories of their villages are shown on the museum festivity in Wandlitz in a picture show.
A colorful and manifold family friendly program
In cooperation with the sponsor Agramuseum Wandlitz e.V. they prepared a colorful program together with many supporters. In a musical frame the festivity offers enjoyment and interesting facts for children and grown-ups all around the exhibition "Geformte und Genutzte Landschaft" (forms and benefits of the landscape). In the current special exhibition "Landmaschinenbau in Ostdeutschland – gestern und heute" (land machine building in East Germany – yesterday and today) you get simoultaneously interesting views into the GDR land technics by models, photos and tractors of the land technical museum collection. The subject is supplemented with special tractor presentations in the external area of the museum.
Advise of the Organizer: Programm changes are possible.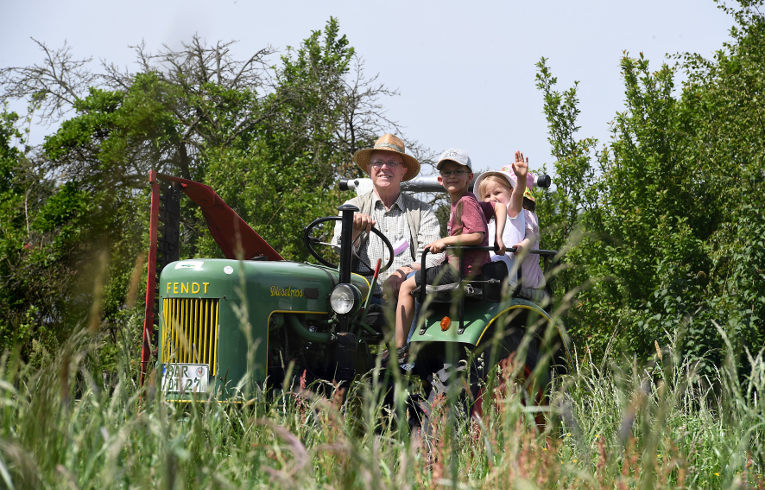 Garden Day
Museum Festivity on the Museum Day
Sunday, 21. Mai 2017 | 11 a.m. – 5 p.m.
Entry to the festivity and exhibition: 4 € | Children and Youth until 16 years have free admission.
BARNIM PANORAMA | Naturparkzentrum – Agrarmuseum Wandlitz
Breitscheidstr. 8-9 | 16348 Wandlitz | www.barnim-panorama.de